And now, a mural that helps clean air
February 27, 2010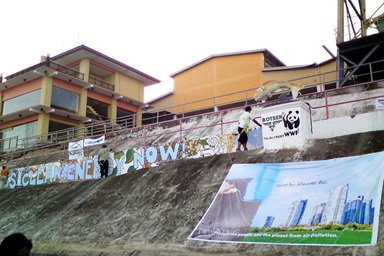 With the devastation brought about by typhoon Ondoy, local artists fortified Marikina Riverbank's walls, not with an extra layer of cement or concrete but with a fresh coat of paint that can help mitigate climate change.
The World Wildlife Fund for Nature (WWF-Philippines), the Global Campaign for Climate Action (GCCA), the local government of Marikina, and Pacific Paint (BOYSEN®) mounted a 200-square-meter mural on the walls fronting Marikina River, an area, which (as the organizers noted) have become a testament to the destructive effects of climate change.
The event coincided with the Copenhagen Climate Deal, a conference considered by the WWF as the most important global council meeting on climate change to date. Here, world leaders were set to craft a successor to the Kyoto protocol, which will expire in 2012.
"Ondoy taught us a painful and very expensive lesson. With climate change, no one is ever exempt," noted Liesl Lim of the WWF-Philippines Climate Unit.
Citing the Marikina Riverbanks as an example, she explained that coastal zones and flood-prone areas along riverbanks and lakeshores are likely to be affected. But since the impacts of climate change are dynamic and non-linear, less vulnerable areas and sectors can be affected as well.
"Are we prepared to adapt to this nebulous, aggressive future? Clearly, not. But it's never too late to work pro-actively," she added.
True enough, the 200-square-meter mural painted by the country's top mural artists turned into a provocative statement against climate change. But because the mural was painted entirely with BOYSEN® KNOxOUT™, the riverbank walls were turned into an actual line of defense against the devastating effects of climate change.
BOYSEN® KNOxOUT™, the first air-cleaning paint in the world, is one of the only proven ways for people to take air pollutants such as nitrogen oxides (NOx) and volatile organic compounds (VOCs) out of the air. NOx and VOCs are the two components of smog or ground level ozone, which is very harmful to humans, plants, and animals. According to the new research by scientists at the NASA Goddard Institute for Space Studies (GISS), ozone was responsible for one-third to half of the observed warming trend in the Arctic during the 20th century.
Scientists from the European Network of Excellence on Atmospheric Composition Change (ACCENT) also stress the dangerous link between air pollution and climate change, and that their negative impacts on health and the environment are multiplied when both are present.
KNOxOUT™ is a green technological breakthrough that can help mitigate these impacts by reducing air pollutants that produce smog. In a trial conducted at the Guadalupe MRT Station, the KNOxOUT™ painted on the station walls was found to clean the exhausts of over 30,000 vehicles passing by the area daily.
WWF's Lim said that climate mitigation must be institutional and that the switch to energy-efficient appliances, reducing consumption and using smarter, greener materials, can go a long way in helping Filipinos fight climate change.
"A lot of Filipinos would like to do their share to fight air pollution and climate change but feel like they don't have the means to improve the situation," noted Johnson Ongking, vice president of Pacific Paint (BOYSEN®) Philippines. "KNOxOUT™ empowers them to improve the environment by doing something as simple as painting their walls."
"That's the idea behind the "One Wall, One World" advocacy. By merely painting one wall, everyone has the power to do his share to improve the one world we live in. It's like tree planting — we plant trees to help offset our carbon footprint. But trees can't handle NOx, VOCs or smog. A wall painted with KNOxOUT™ can help take some of those noxious gases out of the air.
"We feel it's very appropriate that the first wall of our "One Wall, One World" campaign is being done today by the Global Day of Action, with the WWF and these committed artists who have volunteered their time and talents," he added. "They're not just creating a beautiful work of art, but a piece of art that will make for a cleaner and safer environment for everyone in the area."
For information about BOYSEN® KNOxOUT™, visit www.onewalloneworld.com.
- Courtesy of The Philippine Star