EDSA pillars transformed into air purifiers
February 1, 2013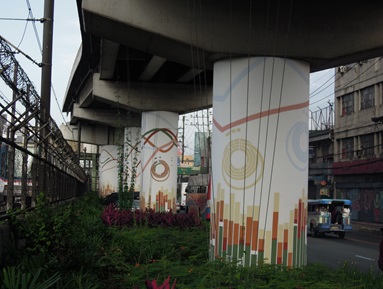 4th art work in the BOYSEN® KNOxOUT™ Project: EDSA Series revealed in time for Clean Air Month
With the long lines, the heat and the occasional shove and push they get from fellow passengers, the millions of MRT and PUV passengers definitely need a breather. And through the urban renewal initiative BOYSEN® KNOxOUT™ Project: EDSA this comes in the form of EDSA pillars transformed into works of art that can purify the air.
In time for the Clean Air Month last November, BOYSEN® KNOxOUT™ Project: EDSA revealed its fourth art work, this time featuring Singapore-born, London-based artist Erika Tan. Just like the other artists in the series, Jose Tence Ruiz (Bgy. San Lorenzo Wall, EDSA) and B+C Design Inc, (Ortigas-EDSA Interchange) and Tapio Snellman (EDSA Cubao Underpass), Erika was commissioned to come up with a 1000 sqm art work in a specific location along EDSA. Using the air cleaning paint BOYSEN® KNOxOUT™ as the medium, the artworks are collectively expected to clean out toxic noxious fumes spewed out by 8000 vehicles.
Erika Tan's approach was through the creative use of actual pollution statistics and data.
Statistics become Art
In Erika Tan's work, pollution statistics are brought out right in the middle of EDSA. Bar charts, graphical lines and comparative data are painted around the giant round pillars holding up the Tramo part of EDSA; rendered in the pastel and white KNOxOUT™ palette.
"Taking the lead from the EDSA/BOYSEN® project itself, I wanted to approach the work in the spirit of a merging of visual and the transformation," noted Erika. "As we visually transform an area thick with commuters and their fumes, we also through the technology of paint, clean it."
In picking up pollution statistics of several Metro Manila and other cities, Erika found a way of exhibiting the way the visual "art" of graphs directly represent one kind of understanding of what human beings in particular places are dealing with — in this case, the catastrophic odds imposed by air pollution in Metro Manila. And in using actual graphs, instead of re-designing them, she suggests that art and science may have similar possibilities and limitations.
Clean Air Month
Erika Tan's artwork is a timely, if stark reminder of Clean Air Month and how efforts should be done to clean Manila's air. "Looking at the statistics globally and more locally, it's clear that the challenges ahead for cleaner air, less pollution all round, are enormous," observes the artist.
In Metro Manila alone, air pollution causes 14 avoidable deaths per day (about 5000 premature deaths a year, as tabulated by the World Bank and the DENR). The numbers seem to be steadily increasing—in 2008, the WHO Burden of Disease said that deaths attributable to air pollution rose up to 11,012. This statistic, alongside Pollution Levels in Metro Manila Cities (June 2006-2008), Sectoral emissions of CO2 emissions from fuel combustion (2002), Increase in vehicle registrations in the Philippines (1983-2009) and Estimates of health impact and costs in four cities for 2010 Data (Metro Manila, Davao, Cebu, Baguio) were some of the data sources used by Erika. The statistics she used came from various organizations such as the Environmental Management Bureau (EMB), the International Energy Agency (IEA) and the Land Transportation Office (LTO), among others.
Erika notes that the graphic visualization, just as numerical values, is open for interpretation and contestation. She notes, however, that "the dramatic rise in vehicle numbers globally cannot be contested. And the pollution created, despite better technology or cleaner fuels, impact on the numerical and visual codes for health, length of life and, needless to say, the financial costs to governments and individuals."
She hopes that EDSA commuters as well as the millions of people who traverse EDSA everyday not only get a breather but a reminder of things that still need to be done. "While KNOxOUT™ does its part towards altering the future of our lives, we all need to figure out cleaner and more sustainable ways of living, working, moving, and consuming."
- Gretchen Laurel