Art Confronts Urban Chaos and Pollution
May 23, 2013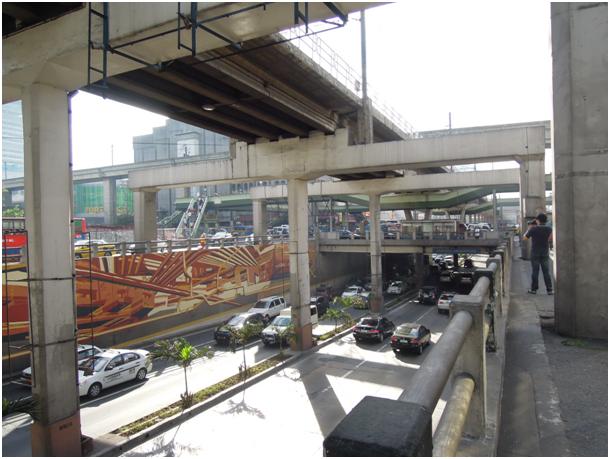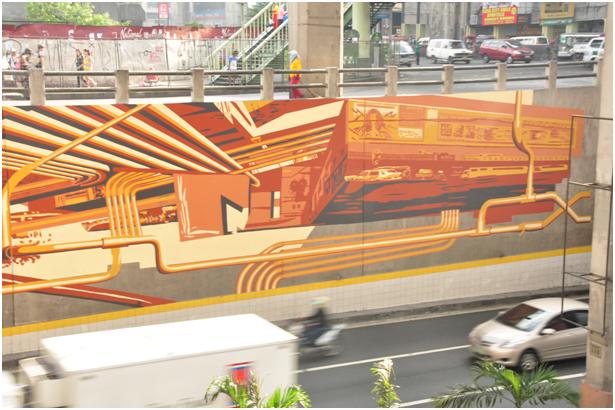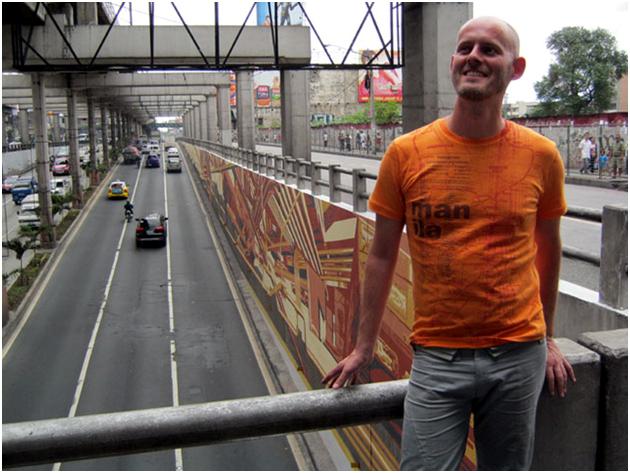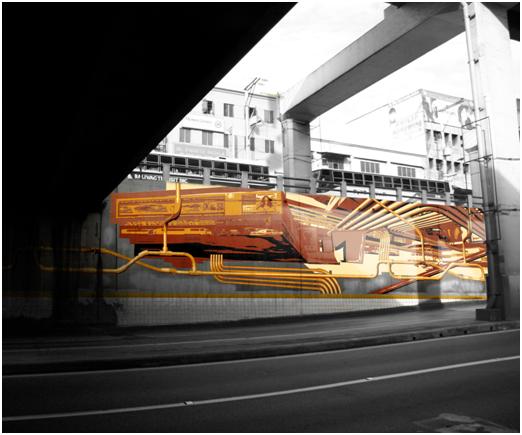 The Cubao Aurora Underpass on EDSA may not strike you as a proper venue for a contemporary art project – it's not the sort of place where one lingers to look at paintings. But as the citizens of Metro Manila have noticed this past year, art exists beyond the confines of posh, perfumed galleries. Art can go to where the people are, to confront the realities they face on a daily basis. Realities, like traffic, urban chaos and pollution.
Each day, hundereds of thousands of motorists and commuters see the "pipe-scape" which London-based Finnish architect, artist and filmmaker Tapio Snellman has painted on a 1,000 square-meter stretch of the Cubao Aurora Underpass. It looks like an X-ray view of an imaginary underground city servicing the life on the surface. It can represent real infrastructure, or the many invisible networks that link an urban community like Metro Manila. This cacophony of pipes seems to mirror the organized chaos that makes up the life of the city.
"Some visitors might see Cubao as a scary place, but my first instinct was to celebrate it," says the affrable Snellman, whose work includes conceptual films dealing with urbanity. "I didn't want to prettify it or make the area seem more friendly. I wanted to celebrate what is already there."
Snellman's cinnection to Manila goes back to the Cities on the Move exhibition in London, where he met the artist Judy Sibayan. Twelve years later, as part of the Tao curatorial team, she asked him to join BOYSEN® KNOxOUT™ PROJECT: EDSA.
BOYSEN® KNOxOUT™ PROJECT: EDSA is an urban renewal initiatve sponsored by BOYSEN® Paints in cooperation with the Metro Manila Development Authority. It aims to lessen air pollution on Manila's main thoroughfare through large-scale artworks. These artworks, executed with BOYSEN®'s revolutionary KNOxOUT™ air-cleaining paint, are actually massive air purifiers.
The last thing Snellman wanted was to use painting as a decorative element that would distract viewers from the harshness of its inner city surroundings. "My interest lay in taking what is already there and using that as an inspiration and inspirational source," the artist declares. "Cubao is one of those places where the energy of a megacity can be felt in all its intensity and relentlessness. The constant flow of traffic, communication and the clash of various urban life-forms are simultaneously exhausting and exhilarating."
The idea is not to cover up and escape reality with visions of rustic prettiness that we urbanities have little memory of, but to confront it. Snellman's artwork challenges the tired notion that art must be only about the true, the good and the beautiful. Although this painting is undeniably true. Its subject is good because a world without plumbing is something we're no longer prepared to deal with. And in this age of globalization and multiculturalism, there is more than one standard of beauty. Welcome to the 21st century.
"As a filmmaker I've done a lot of animation," Snellman notes. "In this painting I sought to capture the moment as the vehicle is passing by. You always see the painting from a moving vehicle, rarely from standing still in front of it." That would be dangerous, as Snellman and his team learned when they were applying the paint in this congested section of the highway.
Commuters may discover a special affinity to the pipe-scape. "Commuting is all about travelling by yourself and then connecting with other people who connect with other people," Snellman notes.
"While the main artery of Metro Manila is conceptually a lifeline enabling the city to work, the reality of travelling along EDSA is often chaotic and frustrating. Politically, however, it is the one place in which all the strata of society converge. This democratic dimension informs the artwork along with its physical reality," he adds.
"From my point of view the project was made worthwhile by its connection to BOYSEN® KNOxOUT™, the air-cleaning paint," Snellman says. "The environmental and commercial dimension of the artwork gives it an immediate social aspect. This eliminates the danger of the artwork being seen as merely decorative, let alone elitist."
EDSA is the lifeline of Metro Manila, but pollution on this highway is also killing us. Metro Manila has the fourth most polluted air among the world's major cities. Our city's main artery is clogged with Nitrogen Oxide (NOx) and other toxic substances spewed by motor vehicles, NOx causes respiratory illnesses and contributes to acid rain that destroys the environment. It has been linked to the development of asthma, cancer and lung disease in adults as well as children.
According to the Philippine Environment Monitor, a joint study by the World Bank and the Department of Environment and Natural Resources, pollution causes 5,000 deaths annually, and one out of eight premature deaths in Metro Manila. It reduces the life expectancy of citizens by almost nine months and costs the country USD 1.5 Billion a year in lost wages and medical treatment.
Who is responsible for this life-threatening pollution? We all are. If you take cars, busses, motorcycles, trucks, airplanes, you contribute to the problem. What is the solution? Obviously, we have to stop using fuel burning vehicles. That's not going to happen.
Environmentalists have shown us the ways we can reduce pollution. We can use recyclable shopping bags instead of plastic, carpool or take public transportation, and reduce our personal carbon footprints in many ways. But there has to be a more active way to combat pollution. A new paint technology offers a solution.
BOYSEN®, the Filipino paint manufacturer, has developed KNOxOUT™, the first air-cleaning paint in the world with CristalActiv paint technology. KNOxOUT™ uses photocatalytic technology to get rid of poisonous NOx emissions. It contains modified titanium dioxide that attacks NOx and turns it into breathable air. When exposed to light, the paint breaks NOx down into harmless nitrates, carbon dioxide and water that washes off the painted surface. This prevents NOx from turning into smog.
Aside from its air-cleaning properties, BOYSEN® KNOxOUT™ is anti-bacterial and self-cleaning. When the paint reacts with light it oxidizes dirt molecules, causing them to lose their ability to stick to surfaces. Dirt washes off easily with each rainfall, keeping the painted surface fresh and vibrant.
It's going to take a lot more than eight artworks to clean the air in Metro Manila, but BOYSEN® KNOxOUT™ PROJECT: EDSA is a highly visible reminder that we can fight pollution. Not by beautifying it, but by dealing with it head-on.
- Jessica Zafra, Courtesy of The Philippine Star