Cannes Lions recognizes BOYSEN® KNOxOUTTM Project: EDSA, pays tribute to Filipino innovation and artistry
September 1, 2013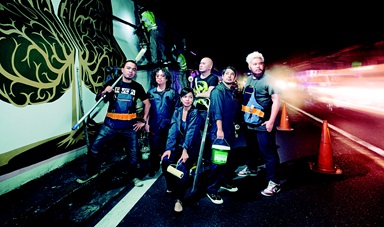 Filipino creativity gained global recognition anew with the country's latest awards in the recently concluded Cannes Lions International Festival of Creativity.
In its most impressive showing to date, the Philippines brought home its first-ever Grand Prix as well as a slew of awards from Cannes Lions. One of these awards is TBWA\Santiago Mangada Puno's Silver trophy for BOYSEN® KNOxOUT™ Project: EDSA.
Along with the Silver, other recent wins for TBWA\SMP for Project EDSA are the Silver Pencil at One Show, a Gold and a Bronze at the Asian Marketing Effectiveness Awards, and a Gold at the UA&P Tambuli Awards 2013.
Bringing together artists from all over the world, BOYSEN® KNOxOUT™ Project: EDSA is an urban renewal initiative seeking to improve the air quality along EDSA. Using the air-cleaning paint BOYSEN® KNOxOUT™, the artists are painting 8000 square meters of walls along the country's main thoroughfare, EDSA. This endeavor, the equivalent of planting 8000 trees, is an unprecedented fusion of art and Filipino-made technology that is expected to result in a 20% reduction of air pollution in EDSA.
"Air pollution is an issue that has to be addressed by everyone all over the world.The recognition from a global institution such as the Cannes Lions International Festival is not only an honor but also an effective platform to bring the message of BOYSEN® KNOxOUT™ and Project EDSA across," notes Johnson Ongking, BOYSEN® Vice President. Every year around 11,000 registered delegates from 90 countries visit the Festival to celebrate the best of creativity in brand communication, discuss industry issues and network with one another.
Pacific Paint (BOYSEN®) Philippines, Inc. is likewise very proud of their award-winning collaboration with TBWA\SMP. "Project EDSA wouldn't have been a success without the passion and commitment of everyone involved– and this of course, includes TBWA\SMP," notes Ongking. Aside from being the creative agency behind Project EDSA, TBWA\SMP is also the principal artist behind two of the eight art works along EDSA.
It can only be hoped that BOYSEN® KNOxOUT™ Project: EDSA can spark a worldwide revolution with cities all over the world adapting the air-cleaning paint technology."The artists for Project EDSA are creating some of the most beautiful air filters in the world, but everyone can easily paint their own air purifier and do their share for cleaner air," says Ongking. "At the end of the day, we all breathe the same air, and it's our common responsibility to make sure it stops being harmful to us."
- Gretchen Laurel